Stanislav Makarov. Angels (gummiarabic print).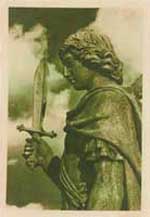 Curator – Ekaterina Andreeva. Stanislav Makarov is a radical contemporary artist deeply rooted in the system of art. He discerns the subordinate and the main thing, the definition and the definable, in the phrase "contemporary artist". The definition "contemporary" is directly related to the artist's archaicising technique and the stylistics of his photo-watercolour landscapes (gum arabic). The main aim is to deliver a distinct message of the beauty of the world, imperceptible in all its wholeness. Modern art — particularly the artistic practice of the perception of the world in the twentieth century — is haunted by an awareness of the impossibility of presenting an image of the world, reflected in the destructive schools of contemporary art. A student of Timur Novikov in the first half of the 1990s, the period of the formation of the concept of Neo-Academism, Makarov is drawn to a more complex artistic problem — how to convey the inconsistent fullness of nature, the urbanscape and the human face. The artist's aim is not rapid, Impressionist-like reactions to the changing landscape.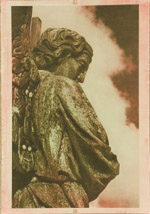 He attempts to unite, within the bounds of one image, all that we know about the world through our feelings — the endless, constant sliding associated with the eternity of our rapidly passing life. Among Stanislav Makarov's urbanscapes, one project expresses this metaphor particularly clearly. In 2003, the artist participated in two exhibitions entitled Angels of Petersburg, on behalf of the New Academy of Fine Arts. In late autumn 2002, he photographed the statues on St Isaac's Cathedral, paving the way for a large-scale independent project. Makarov spent more than a year printing the photographs, experimenting with colour and composition. A special note in the artist's works distinguishes them from the jubilant splendour of the tercentenary theme, introducing a permanent bulwark. Makarov does not address the city's trademark — the golden angel atop the spire of the Peter and Paul Fortress — or the numerous other statues lost in time, describing the difficult fate of what Oleg Kotelnikov calls the city of Peter, Ilich and Tchaikovsky. The heavy angels of St Isaac's Cathedral functionally correspond to both the architecture and their symbolical mission of patrolling the skies. The artist joins these plastically monotonous and reticent figures with the panorama of the city, clashing their massive, immobile contours against the transparent and dramatically receding horizon. Makarov's angels seem to accept the streams of imperceptibly flying time and irreversibly changing space, standing like immutable incarnations of the eternal creative will, in which the divine and the human are the equivalent of themselves and each other.
Ekaterina Andreyeva