Marina Fedorova 08.08.08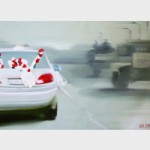 D137 gallery presents the fifth personal exhibition of a famous Saint Petersburg artist, Marina Fedorova. Unlike the previous exhibitions, that were initially composed of graphic images ("One Fine Day", 2005), then of colorful spots of a glamorous life ("Autumn time", 2006) and movies, episodes of the lives of simple Parisians ("To Live In Paris", 2007), and lonely celebrities ("The Lonely", 2008); this time, the heroine of her paintings is Marina herself, unafraid to unveil to the audience and to show an intimate side of her own life. "08.08.08. – August 8, 2008 – symbolism of numbers, a match that promises fortune, 8 – Infinity, the day which my future husband and I chose for our wedding, the day when both The Olympics Games in Beijing and a war between Georgia and South Ossetia began. This project is built on personal feelings and has no сonnections with political views and decisions. By some quirk of fate on that very day, the day of my wedding, I ended up in Vladikavkaz and I saw a group of armored trucks move towards a mountain chain.
My luck was to be on this side of the mountains, therefore I didn't see the war, but I felt its closeness, as well as the pain of those around me. The exhibition could have had an optional second title, "Wedding and Tanks". This portrays shows how shots of quiet life interlace: mountain scenes, scenes of happiness, a still-life of everyday life, and other scenes, while at the same time there is a war going on. Yet all the paintings share a positive attitude, because in spite of the war, the death and the suffering, people love each other, make families, and give birth to a new life".
Marina Fedorova