Ronnie Wood "Rock Star and Painter"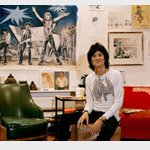 "Compton Cassey Gallery", in the United Kingdom and «D137 Gallery» are proud to present Ronnie Wood's first personal exhibition in Russia on July 27th, the day before the highly anticipated Rolling Stones concert in St. Petersburg. Ronnie Wood (born.1947), musician, artist, art lover. Ronnie Wood was born in Middlesex, England and grew up in with a creative family – his father Arthur was an musician and older brothers Art and Ted were artists. As a result these two art forms became an integral part of Ronnie's life from an early age. "I was fortunate in learning some techniques by watching my brother. They taught me a lot and really took the time to guide me through things. They were my greatest living artistic influences. Art loved to do caricatures and Ted instructed me on perspective and proportion"- says Ronnie. Ronnie was formally educated at Ealing School of Art. In 1963, Ronnie started his first band "The Thunderbirds", later shortened to "The Birds" with school friend Tony Monroe.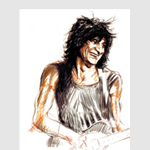 "The Birds" built a following through live gigs, and touring. Eventually, Ronnie moved on. After a brief spell with "The Creation" – an influential pop art band with a massive following in Europe, Ronnie joined "The Jeff Beck" group in 1968, where he met Rod Stewart. In late 1968, Ronnie moved on with Rod to form "The Faces," which quickly became a legendary act. Ronnie first saw the Stones at the Richmond Jazz Festival back in 1964. "I knew I belonged in that band"- he says, – "I've always been a believer in fate. I counted on it happening… I just had to wait it out." By 1975 Mick Taylor wanted to leave and Mick Jagger and Keith Richards were looking for a replacement. Ronnie flew to audition and … got the job! As his musical career has developed Ronnie has continued his passion for painting and drawing. Ronnie started showing publicly in San Francisco in the 1980's and has since had countless exhibitions around the world. His art ranges in style and subject matter from the abstract, to portraits and traditional landscapes all deeply reflective of his live experience. "Sometimes in the middle of the night I have to get up and start painting. It's good when it takes hold of you like that because you can't fight it, well, I can't" – confesses Ronnie. Familiar faces are watching us from Ronnie's works, as he likes to paint his close friends. His subjects range from immediate colleagues in the band, to other famous rock and roll musicians he has admired, known and has sometimes played with. Family, friends and of course the self-portraits perhaps show a more private side. As an art lover his taste is equally varied from Caravaggio and Goya to William Orpen, Banksy and Tracey Emin. In May of 2006, Ronnie opened a new contemporary art space, Scream 34 Bruton Street which has been tremendously successful in taking on very traditional art enclaves with Ronnie's Rock Roll spirit.