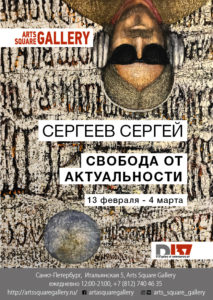 Art Club D137 in conjunction with the Arts Square Gallery presents Sergey Sergeev's exhibition "Freedom from Actuality". Sergeev is well-known Petersburg artist, participant in the non-conformism movement and one of the creators of the D137 gallery. In art, Sergeev developed the Palimpsest style, which combines layering, archaic and elements of symbolism, as well as the Captcha direction, the works of which are designed to determine the artificiality of the intellect of contemporaries who have forgotten how to understand the image and to enjoy contemplation.
http://d137.org/sergeev2020/
The exhibition consists of both new works and the works of the Captcha project, which was shown four years ago at the Museum of Urban Sculpture in St. Petersburg, and on which the author continues to work to this day. The main goal is to present the painting "New Wave", created by Sergeev specifically for Evgeny Kozlov's "2x3m" collection, and which will go to Berlin after the exhibition.
A number of interesting events will be held during the exhibition:
15.02    at 5 p.m. – lecture by the famous journalist and film critic Mikhail Trofimenkov about the New Wave in French cinema.
22.02 – a meeting with Hannelore Fobo, where she will talk about the development of "2x3m" and why she believes that "2x3m" can become a brand of Russian art on the international art scene.
http://www.e-e.eu/2x3m/index-ru.htm
26.02 – evening dedicated to the memory of George Guryanov.
All events will be reported additionally.
The exhibition runs from February 13 to March 4 at
Arts Square Gallery, St. Petersburg, Italianskaya 5