Edward Lucie-Smith (London, Great Britain). Nudes and Landscapes (photography).
Booklet. The exhibition at D137 Gallery consisted largely of photographs made on commission for BBC television, for the first in a series of programmes entitled 'Taboo'. The 'Taboo' discussed in this particular programme was nudity, especially male nudity, and I was filmed as I created the images using two models [who had never met each other previously] in a studio. The point I wanted to make was this – that while people think eroticism is something the camera simply records, taking place in front of the lens, in fact it is often something **constructed* by the person using the camera. The studio was full of people, including a complete camera crew, and no erotic activity took place. The images nevertheless have a very romantic and 'private' quality.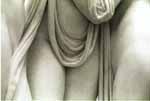 There were 14 of these images, 8 black and white and six colour, digitally printed using a new hexachrome [8 colour process] pioneered by the British firm Chromograph Ltd. Even the black-and-whites in fact were printed using 8 colours. In addition there were three more black-and-white images, plus some images of landscapes in colour, made in the course of my travels. The landscape images have been digitally altered in subtle ways, chiefly by stretching the scans laterally. Interestingly enough, these alterations are impossible to detect, unless one has been told about them.