Designs by Gottfried Piltz for York Heller's opera Der Meister und Margarita (audio installation).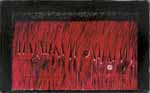 Booklet. Co-organized with Goethe Institute. St. Petersburg. Russia. Gottfried Piltz is already known to opera lovers in St Petersburg following his productions of Richard Wagner's Das Rheingold (2000) and Die Walkure at the Mariinsky Theatre.
This exhibition offers an exciting insight into the theatrical art of Gottfried Piltz, who is both director and designer of the Mariinsky shows. Gottfried Piltz's designs are devoid of illustrative moments and sumptuous details. His stages spurn the traditional representation of the town, nature, ornamentation or decorative costumes.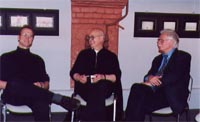 Piltz creates instead expressive symbols, building a space in which the people of today act. By making this empty space "full" and reducing it to light and shade, the artist more freely and openly discloses the human soul. As a mark of respect for the Russian theatre and opera lovers, Gottfried Piltz has kindly agreed to exhibit his designs for York Holler's opera Der Meister und Margarita. Based on the novel by Mikhail Bulgakov, the opera premiered in Cologne in 1991. The exhibition of Gottfried Piltz's designs at the Gallery D137 precedes the Scenic Eye: The Visual Arts and the Theatre show at the Baltiisky Dom from 5 April to 5 May 2002.